Are you looking for Tyres Size for your vehicle?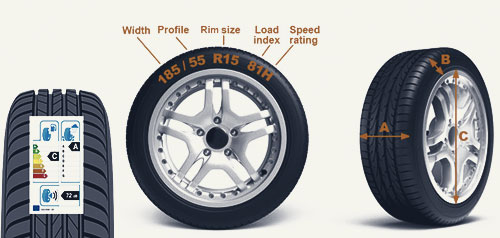 Installing tyres of the proper size on your vehicle is crucial for optimum handling performance and traction. Hence, automobile manufacturers invest a lot of time on research to decide the right fit of tyres for a particular car segment.
Thus, you must be aware of the specific tyre size recommended by your car manufacturer. However, understanding the alphanumeric code written on car tyres' sidewalls can be difficult for some. At ALS Tyres, we help our clients to understand the tyre size meaning so that they can make a proper buying decision.
Understanding tyre size
Let's decode tyre size meaning with the help of an example.
205/60R15 91V
Width
205 – This number denotes the tyre's width and is expressed in millimetres.
Aspect ratio
60 – It is a tyre's aspect ratio or profile height.
Tyre construction type
R - This alphabet indicates a radial ply construction.
Rim diameter
15 – It denotes the rim diameter, expressed in inches.
Load index
91 – These two digits indicate the maximum load capacity of the tyre in question.
Speed index
V- It indicates the highest speed at which this particular tyre can be driven.
Visit us
If you are willing to buy high quality car tyres Farnborough but don't know the most appropriate tyre size for your car segment, feel free to consult our experts.
You can also use the tyre configurator on our website. By typing in your vehicle reg. Number you can find the perfect tyres for your vehicle.
Therefore, there is no need to search for "tyres near me"; simply buy online or head over to our workshop to buy new car tyres Farnborough.